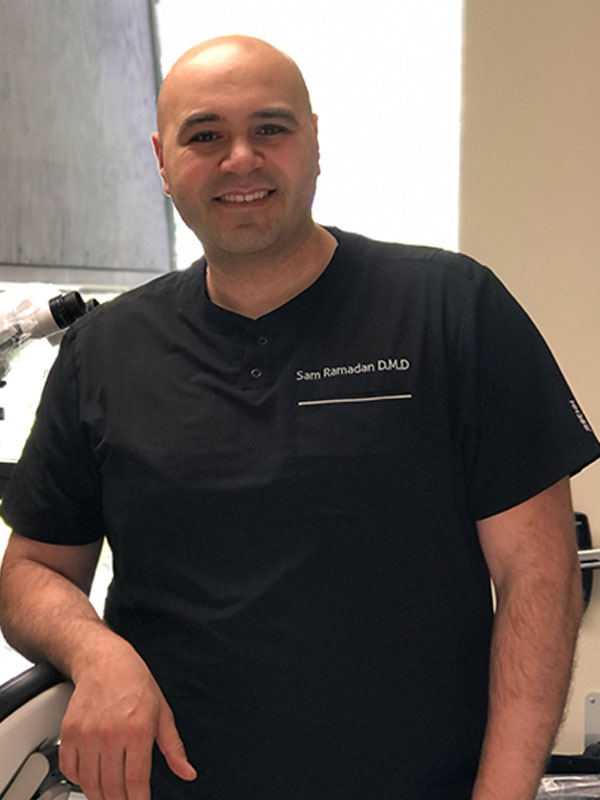 ---
Dr. Sam Ramadan grew up in West Haven, Connecticut. He always had a liking for dentistry through the influence of his grandfather. After high school, he attended the University of Connecticut in Storrs. In 2007 he graduated, in the top ten percent of his class, with a bachelors in Biology. He then went on to pursue his Doctor of Dental Medicine degree at the University of Pennsylvania in Philadelphia.
His interest and passion for endodontics was evident since dental school; as he received the UPenn Endodontics Award for clinical excellence in 2010 and 2011. After dental school, Dr. Ramadan returned to Connecticut where he practiced as a general dentist for a couple of years in West Hartford. His constant urge to advance his experience and clinical abilities lead him to become IV sedation certified through the University of Alabama in Birmingham. He then went on to practice sedation dentistry in Burlington, Vermont for an additional two years.
In 2014, Dr. Ramadan decided to pursue his Endodontic Specialty at the University of California in San Francisco. There, he received extensive training in surgical and non-surgical endodontics. His passion for teaching has earned him an award for "most influential" resident voted by the dental students at UCSF. He devoted many hours of his free time to teach the dental students about endodontics.
Dr. Ramadan is a member of the American Dental Association, the American Association of Endodontists, and the Connecticut Dental Association.
---